News and Events
Flight to Freedom: The Canadian Refugee Experience Since 1957 / Fuir vers la liberté : l'expérience des réfugiés au Canada depuis 1957
Location: St. Paul University / University of Saint-Paul and Canadian Museum of History /
Musée canadien de l'histoire, October 21-23, 2017
October 6th, 2017
It is hard to believe that ten years have passed since the creation of this website by the then newly established Canada-Hungary Educational Foundation to mark the 50th anniversary of the arrival of 38,000 Hungarian refugees to Canada after the failed uprising of 1956. Since that time the Canadian government has declared the arrival of those refugees an event of national historic significance and indeed most Canadians consider it a given that refugees and immigrants are as much an integral part of Canada's evolving national identity as are the indigenous "first nations" and the founding Anglophone and Francophone settlers. So it seemed quite natural and appropriate for us to look for partners and develop a project to celebrate the 60th anniversary. The result is the conference "Flight to Freedom: The Canadian Refugee Experience Since 1957/ Fuir vers la liberté: lexpérience des réfugiés au Canada depuis 1957" to reflect on how this historic refugee movement has continued to influence and shape Canadian refugee policy and the country itself. Who knows, we may even start a new and technically more updated website to keep up with the times.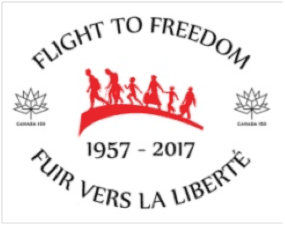 This three-day conference (October 21-23, 2017) explores Canada's involvement in the central issue of our time: the global search by refugees for a safe home in light of this country's history of immigration and nation-building. Recognizing Canada's 150th celebrations and also the 60th anniversary of the arrival and settlement of 38,000 Hungarian refugees during 1957, this conference uses their example to investigate how government and civil society can work together. We begin with the example of Hungarian refugees because...
Saying good-bye to George Jonas
27 January 2016
Canadian poet, best-selling author, journalist, playwright, motorcycle enthusiast, and 1956 Hungarian refugee to Canada, George Jonas, died at age 80 in Toronto on January 10th 2016. Whether you agreed with his views on a range of subjects or not, Jonas's passing arouses a strong sense of nostalgia in those of us who think back fondly to the group of mostly young intellectuals and artists from Hungary who found a haven in Canada after WWII and especially after the failed uprising of 1956. ...
...OBITUARY
George Jonas: Author's book inspired the film Munich
JUDY STOFFMAN
Published in The Globe and Mail on Sunday, January 10, 2016
An undated handout photo of George Jonas.
He was a gifted poet, fearless newspaper columnist, novelist, non-fiction author and playwright, crossing literary borders with apparent ease.
Having fled his native Budapest at the age of 21 after the 1956 Hungarian uprising was brutally suppressed by the Soviets, George Jonas made a mark on the cultural and intellectual life of his new country through his 16 books and 34 years as an award-winning producer for CBC radio and television. Read more...
In conversation with …
... is a series of first-person encounters with Canadians and their links to Hungarian culture, things, and ideas. It presents an eclectic mix of conversations with people of all ages and from all walks of life. Each conversation will be presented as a readable article that will also contain audio clips...
Welcome to the new series In conversation with...
Oliver Botar - a child of '56.
Talking about Flight and Freedom – Stories of Escape to Canada
Hungarian Studies Association of Canada 30th Anniversary Conference
July 13th 2015
We would like to thank Canada Hungary Educational Foundation Board member Christopher Adam for allowing us to reprint here a slightly edited version of his photo report of the 2015 annual conference of the Hungarian Studies Association of Canada (HSAC) first published in his online paper Hungarian Free Press on June 11th 2015.
The Hungarian Studies Association of Canada (HSAC) celebrated its 30th anniversary this year, at a conference held at the University of Ottawa from May 30th to June 1st, 2015. A member of the Canadian Federation for the Humanities and Social Sciences, the 2015 HSAC conference was especially dynamic, with 29 presenters coming from across Canada, the United States, Hungary, Romania, Slovakia and the United Kingdom. HSAC's membership hovers between 75 and 90 members each year, and has shown signs of growth in recent years, especially among members from outside Canada. The two-and-a-half day conference began with a panel commemorating the 50th anniversary of diplomatic relations between Canada and Hungary, with speakers including Agnes Pust and Greg Donaghy of the Department of Foreign Affairs, Trade and Development, as well as László Sinka of the Embassy of Hungary in Ottawa. The panel was followed by a reception offered by the embassy.
Remembering Through Music
June 29th 2015
Kevin Burns
"The magnitude of the Holocaust, planned and carried out by the Nazis, must be forever seared in our collective memory…
With humanity still scarred by genocide, ethnic cleansing, racism, antisemitism and xenophobia, the international community shares a solemn responsibility to fight those evils…
We pledge to strengthen our efforts to promote education, remembrance and research about the Holocaust…"

Declaration of the Stockholm International Forum on the Holocaust
January 2000
In the first month of this millennium at a conference in Stockholm, representatives from 46 governments met to establish ways to remember the holocaust. The outcome of their meeting was an 8-point declaration that lead to the creation of an international governmental organization, the International Holocaust Remembrance Alliance. This year the government of Hungary is chair of the Alliance which now has 31 member countries, including Hungary and Canada. Dr. Bálint Ódor, Hungary's ambassador in Canada, hosted a major commemorative event at the Canadian Museum of History in Ottawa, entitled Remembering Through Music.
Remembering Robert Zend
December 27th 2014
Kevin Burns
There is a voluminous and generous website dedicated to the hard-to-categorize Hungarian-Canadian creative force that was Robert Zend (1925-1985). Zend is one of the many thousands of Hungarian-born refugees who fled that country in 1956 and eventually made Canada his new – and permanent – home.
Although Robert Zend became well known as a Canadian poet, novelist, and a visual artist, he was also one of Canada's foremost producers of radio. Bernie Lucht is the recently retired Executive producer of CBC Radio's highly acclaimed documentary series, Ideas. "I came to Ideas in the fall of 1971 as a production assistant," explains Lucht. "Zend was there as a producer. He was an extremely talented radio producer, imaginative and inventive. He also had a great sense of the absurd, which was reflected in his radio work and his poetry."
It's very typical for people working in radio to pick up their craft by learning from their more experienced colleagues in a form of informal apprenticeship. Robert Zend played a role something close that for the young Bernie Lucht. "Zend became a sort of mentor to me, over a period of about two years. We talked a lot about work and life, and spent many afternoons drinking coffees and eating pastries at the Coffee Mill in Yorkville. I tried to imitate his production style, not very successfully." Read more...
Oliver Botar brings László Moholy-Nagy back to Berlin
December 15th 2014
Kevin Burns
Shortly before University of Manitoba art-historian Oliver Botar left Winnipeg for the opening of Sensing the Future: László Moholy-Nagy, the Media and the Arts, the exhibition he curated for Berlin's Bauhaus Archiv Museum für Gestaltung, he spoke to CHEF website contributor Kevin Burns.
"In his artistic work and experimental use of new media, the avant-gardist and Bauhaus teacher László Moholy-Nagy (1895–1946) overstepped the boundaries of the conventional view of art. His methods were marked by interdisciplinary approaches, while at the same time fundamentally questioning the traditional perception of art. His approach was thus far ahead of his time and was already raising issues that are still relevant today."
Le grand cahier – A nagy füzet –The Notebook
November 10th 2014
Kevin Burns
When a feature film based on a novel by a Hungarian-born author who fled that country in 1956 was scheduled at the local cinema, the CHEF website decided to take a closer look.
Source: UNHCR

The 2013 film, A nagy füzet, is an adaptation of the novel Le grand Cahier written in French by Agota Kristof and published in 1986 in her adopted country since 1956: Switzerland. The novel follows the experiences of twin boys who are packed off to the presumed safety of their grandmother's farm outside a village as war rages all around. Far from being protected, the young boys are surrounded by violence and they witness first-hand how in order to survive terrible choices are involved. The film removes much of the intentional ambiguity of the original novel and sets the action clearly in Hungary during the Second World War.

Directed by János Szász, the film was Hungary's entry in last year's Academy Awards. It is an adaptation of the first novel in a trilogy by Agota Kristof who was born in Hungary in 1935. She fled to Switzerland in 1956 and lived there until her death in 2011. She wrote in French, not Hungarian. After "The Notebook" came "Proof" in 1988, and then in 1991, "The Third Lie." Kristof did not live to see this film version of her first novel, she died in 2011.
Canada-Hungary Educational Foundation board discusses upcoming programs
September 23rd 2014
Christopher Adam
The Ottawa-based Canada-Hungary Educational Foundation's board held its autumn planning meeting on September 9th, 2014 to review some of its work over the past year and to chart a direction moving forward.

Now in its ninth year of existence, there was agreement that scholarship and internship programs should continue to form an important part of CHEF's work, especially building on several years' worth of experience partnering with the "Thinking Canada" study tour and supporting university students arriving to Canada from Hungary. Read more...
Montreal Hungarian community unveils WWI internment plaque
August 22nd 2014
Christopher Adam
On August 22nd, 2014, one hundred plaques commemorating the one hundredth anniversary of the internment of Eastern Europeans by Canadian authorities between 1914 and 1920 were unveiled in communities across the country. Our Lady of Hungary Parish in Montreal unveiled one such plaque, remembering the victims of wartime xenophobia, some of whom were of Hungarian origin.
Among those present were Fr. Szabolcs Licskó, pastor at Our Lady of Hungary Parish, Gyula Szentmihályi, Hungary's honorary consul in Montreal, Tibor Kelemen, chair of the Hungarian Committee of Montreal, Júlia Ciamarra, Parish Council chair and historian Christopher Adam, an adviser for the Canadian First World War Internment Recognition Fund and member of its Endowment Council between 2008 and 2012. Read more...
One Last Time – An exhibition of works by Tavi Weisz is a first for Ottawa's Karsh-Masson Gallery
December 13th 2013
Kevin Burns

After years of uncertainty, Ottawa's city managed Karsh-Masson Gallery has a new home inside City Hall. To mark this new beginning in its new permanent surroundings, the gallery has assembled a collection of new works by the Romanian born, Hungarian trained, and Ottawa based visual artist, Tavi Weisz.
Assisted by Ottawa mayor Jim Watson, Weisz pulled back the curtain at the official opening on Thursday December 12th 2013. They then invited the crowd to enter the new gallery and take a closer look at the paintings that comprise One Last Time.

The gallery walls are a subdued pink, a colour chosen by Weisz, as he explained in a brief interview inside the crowded gallery, "to draw out all those pink tones on these canvases."

The works are large. They reference totalitarianism and a troubled European past. And they depict an often naked human frailty. Read more...
Arrogance or Bias?
A conversation with Andrew Griffith, Canada's former Director General of Multiculturalism and author of the recently published Policy Arrogance or Innocent Bias.
December 1st, 2013
Kevin Burns
"Canada welcomed thousands of refugees from Communist oppression, including about 37,000 who escaped Soviet tyranny in Hungary in 1956. With the Communist victory in the Vietnam War in 1975, many Vietnamese fled, including over 50,000 who sought refuge in Canada.

The idea of multiculturalism, as a result of 19th- and 20th-century immigration, gained a new impetus."

From Discover Canada – The Rights and Responsibilities of Citizenship, Canada's official citizenship study guide.
In 2007, Andrew Griffith was named Director General of Multiculturalism and began working with Minister Jason Kenney, a position he held for four years. Griffith looks back on that experience in his book, Policy Arrogance or Innocent Bias, his analytical case study of the complex working dynamic between public servants and politicians. He experienced the tumultuous transition during the shift from a Liberal to a Conservative federal government and shows how existing programs and new policies challenge the way public servants and politicians go about doing their work.
In pursuit of diplomacy: Miklós Horváth is "Thinking Canada"
September 20th, 2013
Kevin Burns
The young residents had a tough time with Tan Dun's mysterious soundscapes but warmed up to the more accessible folky jazz of the Elemér Balázs Group. During his two-month internship at a residential youth rehabilitation centre in Elora, Ontario, Miklós Horváth gave a number of presentations on Hungarian and European culture. He thought that using examples of world music might be a good starting point so he chose some Youtube clips to play to his young charges. "They were quiet for a long time after," he said. Several days later they told him what they really thought about the music, and when his internship came to an end they said even more. "They organized a goodbye session for me and that was so special because in that kind of institution when people leave they are just released. You do not see them again. They each came up to me and told me something they liked. It was very embarrassing. You know how Hungarians don't like it when people say nice things about them." (I don't, but I'll take his word for it.)
More empathy, more compassion, and more connection
Natalie Feheregyhazi and Toronto's Apuka Theatre rework a classic Strindberg play
August 26, 2013
Kevin Burns
One hundred and twenty five years ago, in August 1888, in the expectation of negative audience reaction, August Strindberg tried to explain what he was trying to achieve with his new play, "Miss Julie." In the Preface of the published edition he wrote: "I have not tried to accomplish anything new but merely to modernize the form according to what I believe are the demands a contemporary audience would make of this art." Today, this same commitment to adapting a traditional art form in order to engage contemporary audiences is what drives Natalie Feheregyhazi's reworking of Strindberg's controversial play. She is not interested in recreating theatre as a museum piece. Instead, she wants to stage an intense theatre event outside the traditional confines of a conventional theatre.
This new production, by Toronto's Apuka Theatre, keeps the play in the nineteenth century but has modified the title – "Lady Julie" – to underline the importance of class and status and their influence on the various "upstairs/downstairs" members of Miss/Lady Julie's household. The location for this production is not a performing arts space but the Georgian-style Campbell House, built in 1822, the oldest surviving structure from the pre-Toronto Town of York, and which now operates as a community museum. Read more...
@ the Edge. The 2013 conference of the Hungarian Studies Association of Canada
May 29th 2013
Kevin Burns
When Canada's academics, scholars, and researchers in the Humanities and Social Sciences meet in Victoria, B.C., June 1- 8, they will be gathering "at the edge" in more ways than one. They not only meet in Canada's most westerly university, but their focus will be the "edgy" theme selected for this year's Congress of the Humanities and Social Sciences, an event now known as "the Congress" and that once went by the weighty title, "the Learneds."
"The theme of '@ the edge'," as the national organizers explain on the Congress website, "reflects the University of Victoria's geographical position in Canada and on the Pacific Rim, as well as the need to centre the periphery both institutionally and socially, testing the boundaries of disciplines, promoting innovative thinking, seeking relevance to both local and global communities, and committing to engaged scholarship and knowledge mobilization.
Translating Canada in Central Europe
May 26th 2013
Book Review - Ágnes Vashegyi MacDonald, PhD, Columbia College Vancouver
Canada in Eight Tongues. Translating Canada in Central Europe/Le Canada en huit langues. Traduire le Canada en Europe central, edited by Katalin Kürtösi of the University of Szeged, is a collective effort of eight Central European nations' scholars. The volume contains 25 articles regarding the dissemination and reception of Canadian literature in translation in Central Europe. Scholars from Hungary, Czech Republic, Slovakia, Slovenia, Croatia, Serbia, Romania, and Bulgaria, specializing in Canadian Studies, shed light on Canada's literary and cultural output, as Kürtösi explains, in order for a "wider readership to obtain information about the presence of the Canadian imagination and knowledge and writing about that country in the Central European region" (9). Canada's official languages, English and French, unite eight languages of Central Europe. A loose historico-political periodization exposes readers to the Canadian poetry, prose, theatre, film, music, women authors, anthologies, theory, and criticism that have become part of the translated canon. Read more...
Still looking for the other half
Tamas Dobozy on his literary life after Siege 13
May 6, 2013
Kevin Burns
Tamas Dobozy is fascinated by four key moments in Hungarian history because of the way he thinks they continue to inform the present. He says they are four powerful elements of a history that is still very much alive today and that when he writes he is in a dialogue with that history. Dobozy's historical "quartet" begins in 1920 and the Treaty of Trianon's imposition of rigid restrictions on the former Austro-Hungarian empire that also re-drew Hungary's borders. Next, it's the Red Army's "bloody Siege" of 1944 and the subject of Siege 13, for which he was nominated for a Governor General's Literary Award and for which he also received the 2013 Rogers Writers' Trust Fiction Prize. Then it's the 1956 Revolution and, finally, the fall of the Berlin wall and the resulting withdrawal of Soviet Armies from Eastern and Central Europe. "
Coach Lenke Szathmary dies at 92
April 12th 2013
The Canadian women's gymnastics world has lost one of its pioneers. Lenke Szathmary (Legany) has died at the age of 92. She was for many years the gymnastics coach at St. Catharines Collegiate.

Born in Hungary, Lenke Szathmary, survived the challenges of what turned out to be a 6-year sojourn in a German DP camp before she was able to emigrate to Canada in 1951. She made Welland her home. After working on a farm and then in a factory on a sewing machine, Szathmary eventually managed to have her Hungarian credentials recognized.
"New Lives" – an exhibition of 50 portraits of Hungarian Canadians by V. Tony Hauser commissioned by the National Arts Centre of Canada

We are pleased to present once again on our site "New Lives," a special exhibit created by the National Arts Centre of Canada (NAC) in 2006 to mark the 50th anniversary of the arrival of about 38,000 Hungarian refugees to Canada in 1956-57. The NAC, which played a leading role in the National Capital Region in organizing celebrations for the anniversary, commissioned 50 portraits of Hungarian Canadians from diverse fields of endeavour by renowned Canadian portrait photographer V. Tony Hauser. The exhibition of the portraits, with accompanying texts written by the 50 individuals, was presented with historical panels prepared by the Library and Archives Canada (LAC), and was opened on October 4th 2006 at the NAC as the first in a series of commemorative events. The opening included a recital by Canadian pianist Mary Kenedi in front of an audience that included several of the portrait sitters. The exhibition travelled to a number of locations in 2006-7 both in Canada and abroad (including Hungary) and forms part of the permanent collection of LAC. It has also been on display at the new Canadian Immigration Museum at Pier 21 in Halifax.
Fragile But Important Links
January 12, 2013
Kevin Burns
Eszter Szenczi arrived in Canada to see first-hand a culture she had only read about in books back home in Hungary. She was one of 32 European graduate students who took part in the 2012 Thinking Canada study tour of Canada.
Thinking Canada is an initiative of the European Commission and Canada, jointly funded for the last several years by the EU and by Canada's Foreign Affairs and Human Resource and Social Development departments.
Tamàs Dobozy wins the 2012 Rogers Writers Trust Award
November 14 2012
Photo courtesy of Thomas Allen Publishing

Kevin Burns
After winning this year's Rogers Writers' Trust award for fiction, Tamàs Dobozy was declared in the press "a surprise favourite" to also win the Governor General's Literary Award for his book: Siege 13. This is his fictional exploration of the Red Army's siege of Budapest in December 1944, in the closing stages of the Second World War. Through thirteen interlinked stories Dobozy addresses the complex legacy of the siege decades later, not only in Hungary but also in Europe and Canada.
World Refugee Day 2012: An honour at a difficult time
June 15th 2012
Kevin Burns

June 20th is the day designated by the UN as World Refugee Day. We wish to acknowledge the work of one person this year who has been recognized for her service to Roma refugees in Canada: this is Gina Csanyi-Robah, Executive Director of the Roma Community Centre in Toronto. Look out for a more in depth article on Gina soon.
Canadian documentary on Roma: Never Come Back!
April 16th 2012
Kevin Burns

The film's title is a warning. It's advice given by a Roma in Hungary to his fellow Roma in Canada who are waiting to hear about their refugee claims. If they are forced to return to Hungary, he warns, they will certainly encounter discrimination and even run the risk of violence from extremists because of their identity.
Picking up the threads: Anna Torma's Bagatelles
March 14th 2012
Kevin Burns

The visual artist Anna Torma uses the word Bagatelle in inverted commas because she says she has borrowed the word from the world of music. "It's usually used to describe small things, not a full symphony." An exhibition featuring her work, titled "Bagatelles" has been on display since fall, 2011 at the New Brunswick Museum in Saint John.
A Fiery Soul – The Life and Theatrical Times of John Hirsch
January 30, 2012
Reviewed by Kevin Burns

Just before the table of contents, an actor explains the pervasive influence on contemporary theatre of the Hungarian-born, Canadian theatre innovator, John Hirsch. "During the 1980s, North American actors had to bring three things to any audition: a classical piece, a contemporary piece, and a John Hirsch story."
News and Events January to December 2011


News and events July to December 2010
News and events January to May 2010
News and events September to December 2009
News and events January to June 2009
News and events June to December 2008
News and events January to June 2008
News and events July to December 2007


News and Events January to June 2007


Home * About Us * Contact Us * News Archives * Site Map